Victoria Garden - Thiruninravur, Chennai
Project Details
Layout
Gallery
Video
Location Map
Proudly Introducing Victoria Garden CMDA Residential Layout, Thiruninravur, Chennai.
Here 1 Plot Cost- 20 Lakhs Onwards, Individual House- 33 Lakhs Onwards
LOCATION ADVANTAGES
Just 45 min to reach any places Chennai.
Near by Proposed Pattabiram IT Park.
Victoria Garden Surrounding Loacations are Nadukuthagai, Thiruninravur, Avadi SRO, we can go any where for all life style needs.
SITE ADVANTAGES
CMDA APPROVED
Chennai's Best Affordable Plots & Individual house.
56 Premium Plots only and Plots Size Ranging:- 800 ,1000 & upto 2400 sq.ft.
24 Hrs transport Facilities - Bus / Train.
Construct your Dream House and live with All Lifestyle Facilitie(Excellent Ground Water, E.B, Super Market, 24 hrs Transport Facility, Safe & Secured Place).
Near by Excellent Schools and Collages :- Jaya Matric, Oxford CBSE, Amudha School, St. Claret School, St. Johnson School, Vivekananda School & Jaya Engg. College & more.
Plenty of Job opportunities available near by ( like IT Company, Schools, Collage, Sipcots & MNC Companies
WHY GO APARTMENT, CONSTRUCT INDIVIDUAL HOUSE AT VICTORIA GARDEN BY MD
Similiar Budget to what you Invest in Flat / Apartments.
Best Asset Land plus Building.
No Maintenance Charges.
No Common Tenant Problem.
No Water Issues.
Live with Pride.
Future you can do extension 1 more Floor.
Garden and other facilities you can do.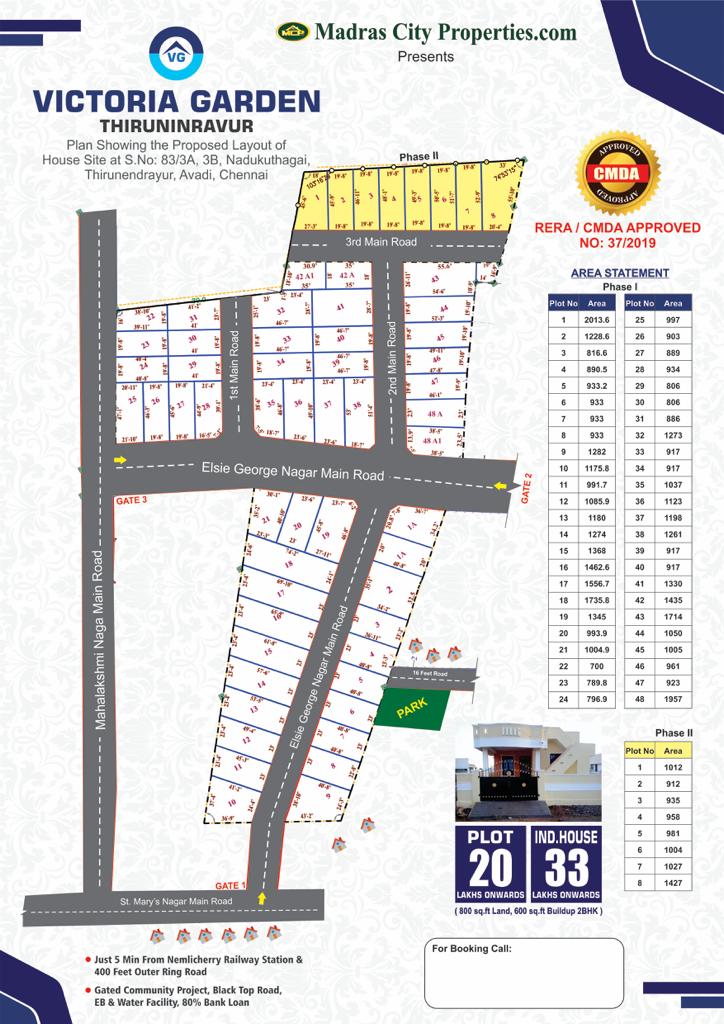 Content will be updated soon